---
"Confidence is contagious, so is lack of confidence" – Vince Lombardi
---
Yep, it's true. If you aren't a confident photographer, your subject won't be either. In fact, it can lead to quite a disastrous shoot. But when it comes to mastering photography, the word confidence doesn't usually come to mind. Lighting, posing, styling, and the technical aspects of the camera are more commonly discussed. While it is true that mastering these topics enhances our confidence, there are other factors at play as well. We often forget that photography is a social process, and that being comfortable behind the camera is essential for quality work. Even when we aren't working with others, confidence plays a role in our creative process. In fact, it greatly enhances our creativity. Confidence is also contagious, and a confident photographer results in a confident model. If that wasn't convincing enough, confidence leads to more fun and efficient shoots, resulting in more beautiful images and more happy people.
Okay, but I am very shy. How do I become more confident?
Maybe you're naturally shy or introverted. Hey, that's totally okay. I used to be like that too. Becoming a confident photographer is actually pretty damn easy. Of course, understanding the technical sides of the photographic process is important. But there is so much more to it than just that. You can increase your confidence by following these few simple tips.
Photograph Friends and Family
If you are struggling with confidence, shoot your friends and family first. You're already comfortable around them, so take advantage of it! Photographing friends and family is a great place to start because it gives you crucial confidence in working with others and producing quality images that clients can be happy about. Use this time to make mistakes too, as they are a crucial part of the process.
It's a bonus if your friends have modeling experience. But if not, no worries 🙂
Visit Your Photography Swipe File
Before the shoot, sit and reflect on what you are hoping to achieve. Visit your photography swipe file and pull inspiration from the images you like. Pose your subject based off of poses you like, or utilize lighting in a similar fashion. Work that inspires you is your best friend!
I save photos I like on Instagram to a separate album that I can reference before I shoot. This is a screenshot of my "portrait" album.
Be Prepared
Organize the shoot before-hand. Make sure all of your gear is ready and organize a time and location for the shoot. Know the theme, and talk with your subject about what they hope to get from the shoot. Sit down and visualize how you would like the shoot to go, this an extremely helpful process! Arrive early and scout the location before you start. Knowing the best places to shoot and pose will lead to a much more efficient and confident photo-shoot.
Maybe you aren't this fancy. But hey, writing down details about the shoot before hand can be very helpful! I keep a notebook on hand at all times, and write down an idea whenever one pops into my head. These notes always help my shoots go more smoothly.
Keep it simple
Don't try a bunch of crazy things if you aren't comfortable with them. Keep it simple at first. If you take a few shots and are killin' it, then branch out. It's okay to make mistakes, but sometimes it can get to us if we aren't used to it. Sticking with the basics will still lead to great results, they are basics for a reason!
I don't know if you can get more simple than this. A portrait shot straight on at eye level. It's simple, but it works beautifully.
Prepare Jokes
Prepare a few jokes before the shoot. It might sound cheesy, but they work! It gives you something to say, convinces your subject you know what you're doing, and sends laughs all around. A laughing environment is a positive one 🙂

To be completely honest. My jokes are pretty bad. But hey, they work!
Smile
Smiling not only gives off confidence, but it makes you feel more confident as well. Smile during the shoot, and laugh when you can. A positive environment is a confident one.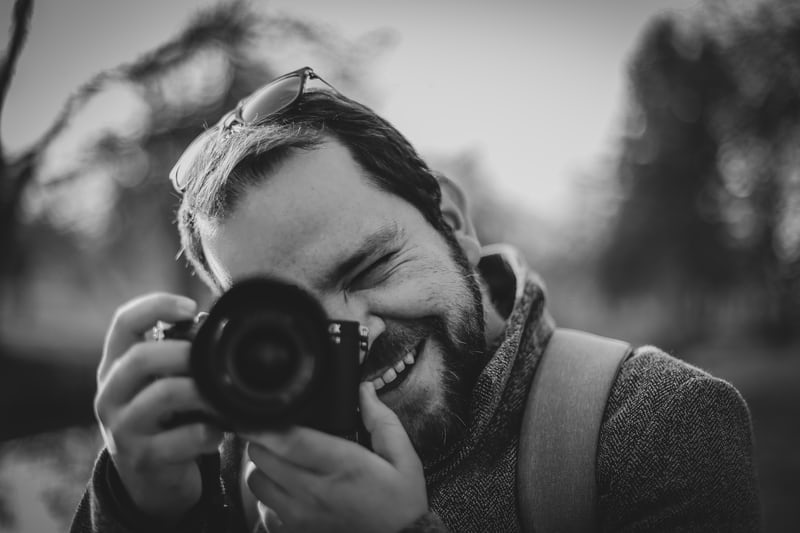 Smiles are incredibly contagious. Your smile will help calm your subject and will result in a much smoother shoot.
Ask Questions
Asking questions helps stimulate conversation, and often relaxes your subject. A relaxed subject is a confident one, and their confidence will help your performance behind the camera. Get them to talk as much as you can, and you'll be amazed at how much better you feel!
I always ask plenty of questions before the shoot, but you can still carry on a conversation during the shoot as well. It really helps relax the subject and lets their confidence shine through.
Dress Well
You might be confused why this is in here. But it is well known that dressing well leads to more confidence! If you wear your best clothes, you're going to feel better about yourself. Hands down. Plus, you're a photographer, and you care about aesthetics! You probably have great style already, so rock it!
No need to wear a full on suit, but simply making an effort to dress nicely can dramatically impact your demeanor, as well as your subjects!
But most of all…. Relax!
At the end of the day, staying relaxed is the key to confidence. Not every shoot turns out perfect, but even a bad shoot is not going to kill you. It's totally okay if not everything goes right. Every great photographer has had more than one bad shoot. When things go wrong, we learn, and mistakes are essential for your development as a photographer. What's more important is that you have fun!